My best reads of 2022. In no particular order. These are not necessarily books published in 2022. Just books I read and loved this year.
These Precious Days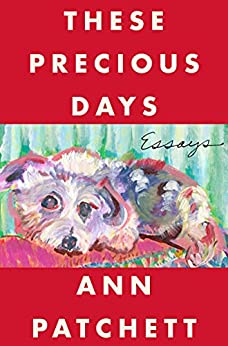 I enjoy Ann Patchett's essays and non-fiction more than her novels. Her previous book of essays, This is the Story of a Happy Marriage, was another favourite several years ago, and contains a great essay on how, at her policeman father's urging, she tried out at the LA Police Academy.
These Precious Days was a book club pick for April – and I didn't finish it until Fall 2022. Not because it's a laborious read. The opposite. Almost every essay was a perfect treasure, and I doled them out to myself like prizes, slowly and sparingly.
Her essay called "Three Fathers" was in the New Yorker; I read it there, and then re-read it in her collection. It's a brilliant study of how each of her fathers – her biological father and her two step-fathers – contributed in their own way to her success as a writer. One, her real dad, by being entirely skeptical of making a living as a writer – giving Ann the perfect incentive to say fuck you and succeed. Her first step-father was her greatest fan, which she takes with a grain of salt, because he fancied himself a writer also, and every piece of his writing he ever sent her to review was God-awful. And finally, her second step-father, who was indifferent to her writing and just loved Ann for Ann.
Two of her essays focused on Patchett's growing indifference to "things". One of her friends inspired "My Year of No Shopping" – a challenge to buy only consumables (food, drink) and nothing else for one whole year. No clothes, no books, no purses. Ann gives it a shot – and she's quite successful at it. Enjoy what you have. Read the books you have. Wear the sweater from the back of the closet. Buying things doesn't fill you up or make you happy.
In "How to Practice", she describes the tedious archeological chore of helping her best friend, Tavia, clean out her hoarder-father's house after his death. Vowing to not leave a mess for her estate to clean up, she starts de-cluttering her own house, giving things away, throwing things away, repurposing. She and her husband Karl were neat and tidy, but still, they just had Too. Much. Stuff.
I have been recommending These Precious Days to all and sundry. If you, like me, are trying not to acquire so much stuff, then feel free to borrow it from the library. The Libby app has multiple e-book and audiobook copies available.
Also, if you haven't read Patchett's non-fiction book Truth & Beauty, about her friendship with author Lucy Grealy (author of Autobiography of a Face), well, please do.
Still Life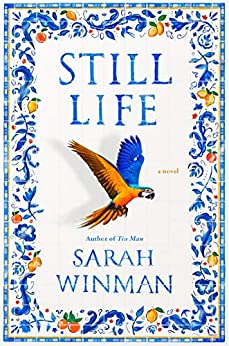 What a joyful masterpiece this was to listen to. I borrowed the audiobook from Libby. And then even before I finished it, I went to my local Book City and bought the paperback. Because it's the kind of book you need to have in your hands, and flip through, and underline passages and dogear pages. This novel reminded me a lot of one of my favourites from last year, A Gentleman in Moscow, with its similar themes of kindness, gentility, finding family, and seeking out beauty in the everyday around us.
Sarah Winman's writing is beyond lovely. She creates memorable real characters. There's a fair bit of magical realism, including Claude the Parrot who seems to have a preternatural understanding of humanity's flaws and who may also be the reincarnation of Shakespeare. I wasn't entirely taken with the last chapter of the novel, but that's my only quibble.
The Stranding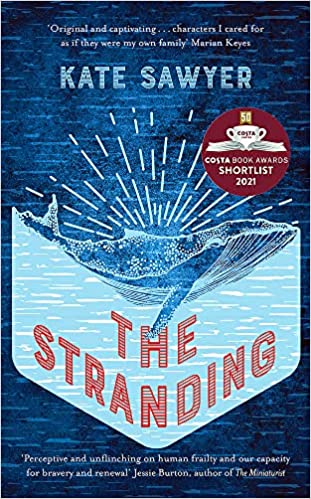 This novel was a recommendation from my friend Candace, and I borrowed it from her. But of course now I want my own, because it was such a good read.
I just went to Amazon (to get the .jpg of the book's cover) and made the colossal mistake of accidentally seeing a reader's random comment about The Stranding:
This book was fairly pleasant but somewhat forgettable.

An idiot
I can only assume the reader read an entirely different novel than I did.
The Stranding was not at all pleasant – it's set partly in a post-apocalpytic, post-nuclear world and partly in the days leading up to it. Our female main character ends up saving herself from the apocalypse, with a stranger, by climbing into the rotting carcass of a whale. Ruth's salvation – as the world ends – comes after she somewhat impulsively re-locates from London to New Zealand, desperate to escape the environs of her loathsome married lover. She and the stranger band together to survive. They may be pretty much the only people in the world. They encounter a stranger or two, hear stories – but of course they aren't getting updates on their Twitter feed, because the world has basically ended. All technology has ended. It's back to the land and the sea, and raiding the local department stores until their inventory depletes.
Pleasant? I wouldn't have said so.
Forgettable? Haunting, I would have said. I can't tell you how many times I have thought of this book since I read it; the characters are real to me. (This reminds me of The Time-Traveler's Wife, where the characters stayed with me for months and months after I read it. Like friends I kept expecting to hear news about.)
One of the blurbs on the back cover of The Stranding noted how hopeful the novel is. Again, I wouldn't have said so. But it's thought-provoking, inventive, stressful, oddly romantic, and harrowing.
It's also so embedded in my mind that I asked the author Kate Sawyer on Instagram to please write a sequel. Ruth and Nik, as strangers will when they are possibly the only two people left on Earth, end up with two daughters. What happens to those daughters … well, I kinda need to know, Kate.
Kingdom of Ash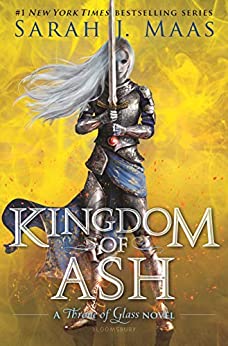 I started reading Sarah J. Maas and her YA fantasy/romance books at the recommendation of my next door neighbour, who shares my sensibility for pop culture. I inhaled the first four books of A Court of Thorns and Roses in a few short months, one after the other, obsessively. Then I started in on Sarah J. Maas' first YA fantasy series, Throne of Glass, which she started writing when she was 16, I believe.
TOG (as we in the YA world call it) is the first of SEVEN novels in the series, plus there's a prequel. TOG and the second book, Crown of Midnight, I also consumed quickly and ferociously.
Then, according to the list of Books I've Read that I've kept religiously since 2004, I instructed myself to read something other than YA fantasy before downing the next 5 novels (list says "OKAY KOB read some adult books before more TOG"). Which, surprisingly I did, reading Ayesha at Last by Uzma Jalaladdin and then The Wife by Meg Wolitzer. But then I jumped right back into Book 3 of TOG, Heir of Fire. My first book of 2019 was Book 4, Queen of Shadows. And then the streak ended and I was Maas-ed out. No Maas. This burn-out, or oversatiation, also hit when I read Harry Potter years ago. Once I finished Goblet of Fire, I could not handle any more Harry, and it took several years to pick up Order of the Phoenix and proceed to devour the end of the series.
In 2021, I picked TOG back up and read Empire of Storms, which was very very stressful. It ends with our heroine in a horrible bind, having been captured by her arch-nemesis and imprisoned – in a lead coffin with a lead face-mask. So normally, I'd pick up Book 6 and find out what the hell happens after that cliffhanger. Except, in what I can only consider to be a Sarah J. Maas mental breakdown, Book #6 goes on a whole fucking 668-page tangent to follow two minor characters (including Chaol, who everyone kinda hates) on a quest to find allies in other worlds to take our heroine's side in the war. Tower of Dawn defeated me. I started it, realized I didn't give a fuck about its characters, and put it down. This Tweet could have been me:
In 2022, I vowed I had to finish TOG. I had it on good authority from Candace that Kingdom of Ash was an amazing ending to the series – I had to know what happens.
So, I cheated. Yup, I admit it. Instead of reading Tower of Dawn, I read the Wikipedia page to find out what transpired. (I had also done this, head hanging in shame, with the last Twilight book, which I could only stomach until the baby was born, and then regained my senses and put that shit down.)
Dispensing with the horrible Chaol and that whole stupid diversion, I picked up Kingdom of Ash and prayed that Aelin would get free from horrible Queen Maeve as quickly as possible, because to see her chained, imprisoned in a coffin, and tortured repeatedly wasn't super fun. And once she got free (yeah, like that's a spoiler), all by herself, not relying on any dude to rescue her, the rest of the novel (all 989 pages) just flew by.
And, again, I would like to beg the author for a sequel. Because after about 5,000 pages, it was kinda nice to see Aelin and Rowan happy, not: imprisoned; at war; tortured; separated; betrayed; or in imminent danger.
They were together, safe, and optimistically rebuilding Aelin's war-marked Terrasen. It would be a nice little gift, just saying Sarah J. Mass, to throw your fans a happy "normal times" novella like you did for ACOTAR with A Court of Frost and Starlight.
Please.
Intimacies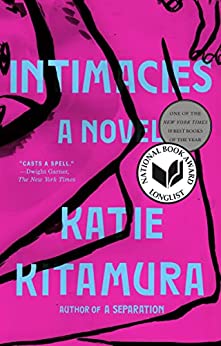 This was a recommendation of a friend of a friend, and I bought the hard cover at my local Book City on Easter weekend because it was Independent Booksellers' Day. And the book clerk assured me it was a great and quick read. And indeed it was. (And, by the way, that's why I love Book City – pretty much half the time I buy a book there, one of the clerks has read it and praises my choice. How many of Amazon's books do you think Jeff Bezos has read?)
A novel about a never-named female translator who works at the International Court of Justice in The Hague, Intimacies is a study in juxtapositions. (Okay, yes, I was an English Lit major in undergrad, and yes, every essay was something like "A study in grey: The juxtaposition of light and dark in Keat's Ode on a Grecian Urn", or some such nonsense.) But the competing themes are apt in this novel – juxtapositions between things that bring people together (the rather intimate art and science of translating and interpreting someone else's words and ideas, creating a bridge between languages) and the distances that can never be overcome between people (miscommunications, estrangements).
I thought it was brilliant. And I read it in an afternoon.
A Town Called Solace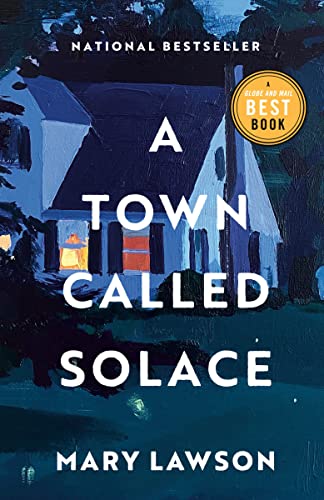 Another book club pick. I have loved some of Mary Lawson's previous novels, including Crow Lake and The Other Side of the Bridge. She's Canadian and her novels are set in Northern Ontario, where I spent a couple impressionistic years in my youth.
I listened to A Town Called Solace on Libby and absolutely loved it. There are three narrators, as the events are told from three different viewpoints: Clara, a young girl and neighbour to the recently deceased Mrs. Orchard in Solace, Northern Ontario; Mrs. Orchard herself, an absolutely lovely elderly lady who we learn over the course of the novel committed a heinous crime in her past; and Liam, a newly divorced man with an undefined relationship to Mrs. Orchard who unexpectedly inherits her house in Solace.
It's a lovely read – it was long-listed for The Booker in 2021, justifiably so. Once I finished it, I missed Clara, Mrs. Orchard, and Liam. I still miss them.
Clara is a favourite character from this year. Precocious, skeptical, and superstitious, she is deeply-traumatized by the disappearance of her 16-year-old sister Rose, which is a mystery that hovers over the day-to-day events of the novel. Again – I'd love to read a novel dedicated to Clara as an adult. She'd be fascinating and scary.
Truly, I will read anything by Mary Lawson. She's a gem.
Oh William!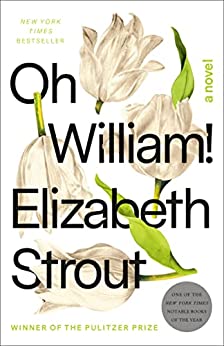 Ditto, I will read anything written by Elizabeth Strout, who won the Pulitzer in 2008 for Olive Kitteridge. I thought Olive Kitteridge was a masterpiece when I read it. And I declared so to my book club. My book club presentation focussed on why Olive Kitteridge is really a novel, instead of a set of inter-related short stories, and I felt quite passionate on the subject at the time.
As much as I loved Olive Kitteridge, it's Strout's Lucy Barton series that I love even more. I remember reading My Name is Lucy Barton in Antigua, by the pool in the hot sunshine, shortly after it was published in early 2016. I was reading it on my Kindle and inserting note after note because I was going to be presenting it to book club. I read it after Paul Kalanithi's When Breath Becomes Air and right before Sheri Fink's Five Days at Memorial. What a great vacation that was.
My Name is Lucy Barton introduced us to Lucy Barton, a writer from an extremely impoverished and dysfunctional Midwest family. Lucy is living in New York City, in a dysfunctional marriage with William, whom she met at college (her intelligence being her ticket out of her family squalor). In My Name is Lucy Barton, Lucy ends up in hospital with a never-diagnosed ailment. And out of nowhere, her estranged mother comes to visit her. The novel is a fascinating study in the truly broken dynamics of mother and daughter. It's about trying desperately to escape from family but never being able to escape your history.
Lucy Barton resurfaces in Strout's Anything is Possible, which I confess I found to be a bit of a slog. It's a series of short stories that are based in Lucy's hometown, with an awful lot of horribly damaged characters.
Oh, William! is a chronological sequel to My Name is Lucy Barton. It was a fun fun listen on Libby, and it was a joy to meet up with much older versions of Lucy and William, now long-divorced. William is remarried and Lucy newly widowed.
William is not, and was never, an attractive or pleasant character. Lucy latched on to him in My Name is Lucy Barton because she sees him – a young professor – as her knight in shining armour, rescuing her from the fate of returning to her family and hometown. But William is just as much of a smothering, critical, abusive force as her mother. Lucy, suffering from some kind of Stockholm Syndrome, can never seem to break free of William, even after years of divorce.
Which leads us to Oh, William! – and the unexpected turn of events that transforms the novel into a road trip adventure when William drags Lucy along to meet, for the first time, his biological sister. Lucy can't seem to do without William, even though William is as bullying and insensitive as always. I guess we are always our own worst enemies when it comes to many relationships.
Songs in Ursa Major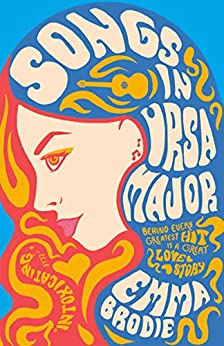 Songs in Ursa Major wasn't a book club pick or a recommendation from a friend. It somehow fell into my lap, and I thoroughly enjoyed it.
I think it's supposed to be a veiled dramatization of Joni Mitchell's love affair with James Taylor in the late 60s, early in her career. I listened to it months ago, and it reminded me a lot of Taylor Jenkins Reid's Daisy Jones and The Six. A strong sense of time (late 60s, early 70s), a female protagonist trying to make it in a very male-centric music industry, a doomed love story.
The Most Fun We Ever Had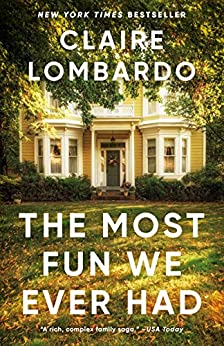 This novel reminded me a lot of the elements I used to love about John Irving – a great big (20 hours plus as an audiobook) multi-generational story. Reminded me in many ways of Garp (which I will always say is my favourite book ever, read when I was in high school) – a great big love story between two likeable characters who are both horribly flawed. They raise four girls, and it's not glamorous. But you root for them to stick it out as their four girls grow up and inevitably fuck up their own lives.
The Palace Papers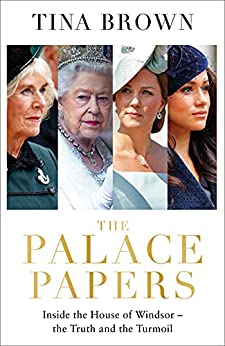 I was highly ambivalent about this read/listen, but after both Marie and Holly in book club strongly recommended it, I put it on hold on Libby. It's a good 17+ hours as a listen, and every time it became available, it was a "Skip the Line" copy, which gives you only 7 days before it has to be returned. 17+ hours over 7 days is quite the commitment, and eventually I just gave up and bought it on Audible.
I'd say it's a highly enjoyable and well-researched book that I'm still seriously ambivalent about.
Tina Brown, the author, narrates the audiobook in her highly snobby British voice. I confess I haven't finished it, and likely won't. I couldn't get through the chapters on Meghan Markle, whom Tina Brown clearly dislikes. In the Foreword, Tina basically says that she's written this book because it's the book Meghan Markle should have bloody well read before marrying into The Firm. Do your research, Meghan, is the very clearly-stated thesis of The Palace Papers.
Then there's the very off-putting chapter on Jeffrey Epstein and Prince Andrew's very creepy affiliation with him and Ghislaine Maxwell. It's a super dishy chapter because Tina Brown, creator of the website The Daily Beast, was the first to publish details of Jeffrey Epstein's very generous sentencing in Florida for what was clearly child trafficking. Brown ran in the same circles as both Epstein and the Royals, and she's as much a character in the chapter (without the taint) as the main players. It's horrific, but very entertaining. Andrew comes off as a bobble-headed, daft horndog who would do just about anything for cash.
But if you like Netflix's The Crown, The Palace Papers covers the exact same territory and timeline, with Brown's very biased but interesting takes on the players. She adores and respects Camilla, who's never said a word against The Firm, and is the anti-Meghan. She reluctantly admires Kate as the scheming manipulative temptress who spun her web and, albeit slowly, snared William. Kate appreciates and respects The Firm and, according to Brown, will make a good Queen. She won't make waves, she'll wear the right colour pantyhose, and all will be right with the world.
Now, either you love Meghan Markle or you hate her. I personally adore her, and I reject Brown's thesis that once you marry into The Firm, you need to bend to its traditions. Maybe Meghan didn't do her research – how could any outsider, especially an American, appreciate what it's like to marry into Batshit Crazyland, and be victimized by the misogynistic and racist British press? Brown basically equates The Firm with the mafia – once you're in, you can't get out. Well, huzzah to Meghan & Harry, who said Fuck This Shit, we are out of here.