Don't get me wrong. I like shopping at Nordstrom and The Rack as much as the next woman who's looking to fill that hole in her soul with a new pair of jeans, cute little booties, and a cashmere sweater. I'm in.
But there's apparently a segment of Nordstrom buyers who have lost their GD minds. My husband says his family is afflicted with the curse of the "Coffin Compromise" – that's when you pay far too much money for something that's really a piece of crap.
Ladies and Gentlemen of the Jury, Exhibit A – I've been mauled by a puma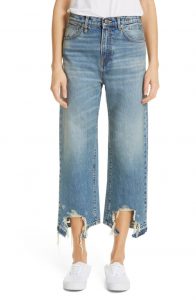 These are called "chewed-hem" jeans. In Nordstrom's own words, which are intended to promote these jeans for sale:
The distressing on these slouchy nonstretch jeans suggests something with large teeth has mauled the hems.
How is this a selling point for any piece of clothing?? Wear these jeans and you'll look like you've been attacked by a wild animal! Is that the fashion statement most gals want to make? I spent $540 on these jeans, just had my hair and nails done, and I look like I've been attacked by a puma!
There's a shorts version too, that is also "off-kilter":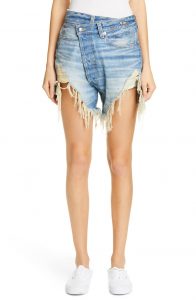 Again, in Nordstrom's own words:
A deconstructed, asymmetrical front delivers a cool off-kilter vibe to fiercely slashed and shredded nonstretch-denim shorts.
I looked up "off-kilter" in the dictionary. It means "somewhat ill; not completely well". Which you would be, if a puma just attacked you and your shorts. And you paid $531 for them and they don't even button up straight. (Aside: Why are the shorts the same price as the jeans – shouldn't shorts for obvious reasons be cheaper that full-length jeans?)
Are real women actually buying these jeans??
Exhibit B – "We meant to do this"
This "off-kilter" thing seems to be a trend now: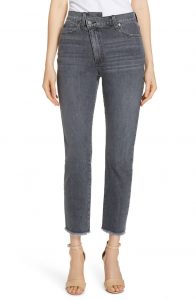 According to Nordstrom, it's a "new slant" (guffaw) on skinny jeans, with an asymmetrical front closure. Or a factory error that's been turned into a marketing opportunity. Only $414.
Speaking of factory errors: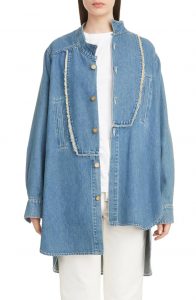 In Nordstrom's words, this denim jacket has more "off-kilter styling" with a "misaligned placket" and "mussed wing collar". Isn't this code for, we really screwed up, but now we're saying "I totally meant to do that", and now it's $1400?
Exhibit C – Make up your mind
If choosing the colour of your jeans in the morning is the hardest decision you have to make all day, you need to get a job like mine.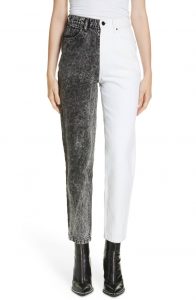 These are "bicolour" jeans. Black jeans are great. White jeans are cool. Pick a team. Make a decision.
I initially looked at these jeans and thought, OK, kinda cute, pretty normal, but why $2K?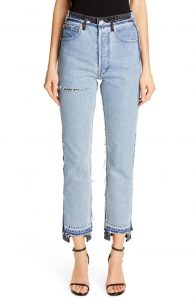 And then I realized – they are "pieced together" jeans: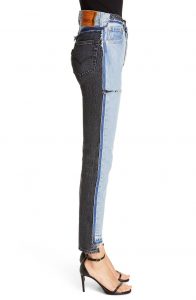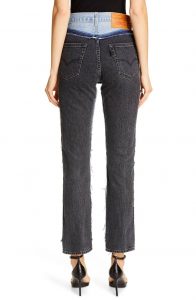 I mean, are they horrifically awful? I wouldn't say so. No animal has gnawed them, so that's a plus. But I'm not digging them. Pick a team: blue or black.
And then there's this multi-colour atrocity: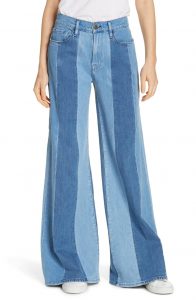 These are panelled wide-leg jeans that give you "an artsy reconstructed look".
No, they are clown jeans.
Exhibit D – "I've got too much money and bad taste to boot"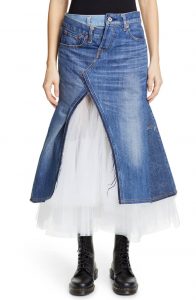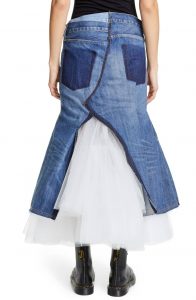 Tulle & denim mermaid skirt. Also off-kilter, as you will see. Only $2175.
I am speechless. There are no adjectives.
And along the same lines – by the same designer – and only $3600, this denim jacquard tulle dress: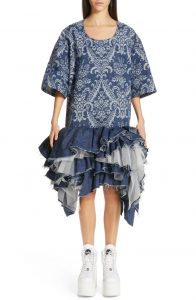 And somehow the back works two different ways (trying to figure this out):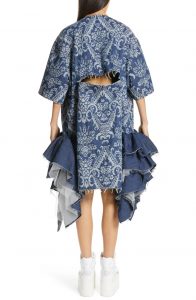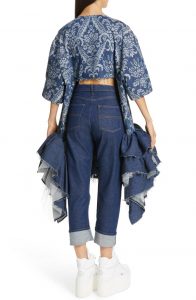 Not only is it ugly as hell, but it's unflattering. The top is about as stylish as a hospital gown. The bottom is a schizophrenic hot mess.
Nordstrom Actually Has Pretty Denim!
On the bright side, to show that I'm fair-minded, Nordstrom's denim offerings include some pieces that I can totally get behind. I couldn't possibly wear them, but I get why someone who's sane and stylish would: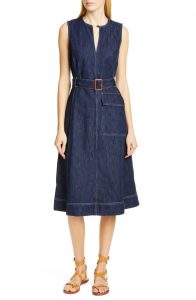 Super cute Ralph Lauren denim dress. $560.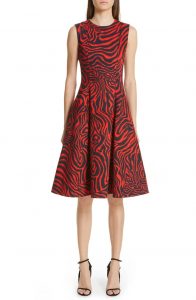 Ditto this zebra-print Calvin Klein A-line. My law partner MJ would rock this. She's sane, stylish, and super conservative. She would never pay $1400 for a dress (nor would I), but this would look great on her.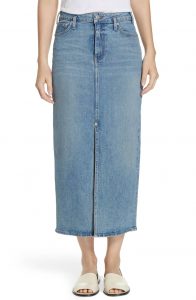 I had a jean skirt very like this in undergrad and wore the hell out of it. $440. I wish the model was wearing cute booties with the skirt – and a cashmere sweater: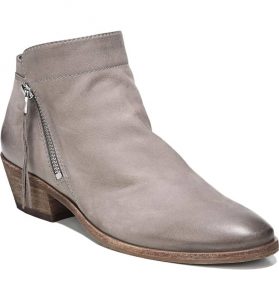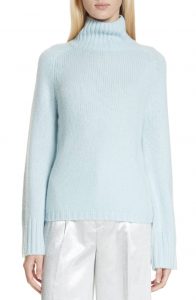 Sold!