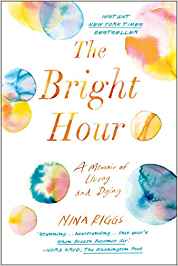 I started Nina Riggs' The Bright Hour: A Memoir of Living and Dying sometime around November 2017. I finished it this past December, over TWO years later. It's not Nina's fault it took me so long. I have ADHD or something. And her book was almost too beautiful to read, and too terrifying to finish.
The Bright Hour is a lovely book despite the potentially (but not necessarily) depressing subject matter. Nina Riggs is (spoiler alert, was) a beautiful writer. The chapters are bite-sized snippets of her life post-cancer diagnosis, often just detailing the beauty of simple pleasures in life. Sometimes the unexpected humanity found in the medical system. Sometimes the devastation of losing control of your body and your life.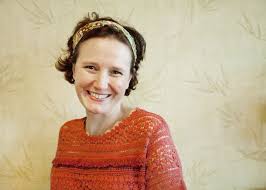 Nina writes wearing many hats – she's a poet, hence the gorgeous prose; she's a daughter, taking care of her own mother diagnosed as terminal; she's a mother struggling with a limited shelf life with two young boys; she's a wife to her soulmate John; and she's a family historian, her family being descended from the American poet Ralph Waldo Emerson.
And she's funny; the book is surprisingly light-hearted in many spots. It's not oppressively bleak at all. The book starts off with this perfect sentence:
Dying isn't the end of the world, my mother liked to joke after she was diagnosed as terminal.
The prose is so gorgeous that the entire book is littered with my underlining, attempting to capture so many perfect sentences and passages.
"At Least I'm Here With You"
One particular chapter, snippet, later in the book, hit me in the gut. Nina and John decide to take their kids to Universal Studios in Orlando to see Harry Potter's World – with her oncologist's blessing. And, heck, I'd go – butter beer in Hogsmeade, buying a wand from Ollivanders in Diagon Alley – sign me UP.
It's a vacation that's more bitter than sweet. First, it's pretty clear that Nina's limited shelf-life is kicking in. Second, Nina makes Universal Studios sound pretty fucking horrible – shuffling through endless lineups, battling the crowds, suffering through expensive horrible fast food places, plus managing John's anxiety. There's a 110 minute line-up for the Minions ride, even with their super expensive Express Passes! On second thought, I can live without the fake wand from fake Hogsmeade.
And they are staying at the Portofino Bay Hotel. Of their fake Italian resort hotel – she says:
It's hard to keep track of the different levels of artifice here, and in some ways it reminds me of my own body. It looks intact – lovely, even, on the outside – but you can sense that on the inside something is not right.
The fake hotel, however, has a couple plusses: a pool & alcoholic beverages for the adults. So they spend a crowd-free afternoon at the pool of the fake hotel in horrible Universal Studios, making the best out of a bittersweet shit sandwich. As they do, Nina reaches out and says to John, sitting beside her:
At least I'm here with you.
This is an inside joke of theirs, from a children's book they've read to the kids a million times. The line comes from the mother in the book, said to her child who hates shopping at a Costco-esque shopping hell. "I think shopping's boring too", says Little Llama's mama when the baby llama was having a meltdown …. "But at least I'm here with you."
She and John have said this little one-liner to each other hundreds of times – "words of solidarity … on the battlefields of parenting." They are together in this hellhole; at least they have each other.
And so she goes on to ask herself:
What happens to little scraps like this, when there is only one person left to get the allusion? …

What is the use of an inside joke with the dead?
Hubby and I have so many inside jokes like that, innumerable, after 28 (next weekend) years of marriage. Such a rich mythology of stuffed bunnies and bears and hippos and turtles, all with their own backstory and motivations, so elaborate we're starting to forget them ourselves. There's the movie lines we throw out at the same time – Midnight Run, Clueless, Grosse Pointe Blank, Local Hero. Sometimes it's non-verbal, like a particularly poignant hand gesture we adore from Searching for Bobby Fisher. Graeme swears we've done the Vulcan mind meld.
Sometimes we lapse into this marital shorthand around other people, and it's a bit embarrassing and rude – exclusionary, not on purpose. We have our own language, our own dialect. We are in our own world, our cocoon, our hutch – and that's what Graeme promised me when we first talked about getting married. Marriage is a sanctuary against the outside world; a hutch that shelters the two. That's what Graeme spoke so movingly and eloquently about at his brother's 25th anniversary vow renewal. (His speech made the women in the audience cry, including me.)
The Cocoon Shatters
And that was the punch to the gut to me. When one of you dies, that whole cocoon is shattered. That insular world of two, full of coded deep understanding, is rendered meaningless. What's the use of a language that only one person speaks?
When your marriage creates a whole world, that whole world dies with either one of you. And I dread that day. Is that why I'm obsessed with reading books about death, dying, and especially dead spouses? To prepare for the incomprehensible?