Ballet buddy Barb and I went to see The National Ballet of Canada's production of The Winter's Tale on Wednesday night. Although we were both English lit majors in the day, and read our more than fair share of Shakespeare, we knew absolutely zip about this play.
I wasn't particularly psyched to go. The posters for the ballet were pretty monochrome and blah (sorry NBOC, but I was uninspired):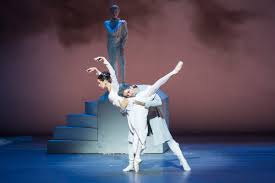 And I knew it was a long ballet – 2 1/2 hours with intermissions. I was tired, work was tedious and overwhelming; it seemed like a bit of an imposition to go. I trudged along to the Four Seasons with low expectations and low energy.
Hold the phone. It was beyond fabulous and invigorating, and I haven't stopped talking about it since.
I can't decide what I loved best about this ballet:
the choreography, a perfect meld of traditional and modern
the performances – esp. Piotr Stanczyk, whose descent into jealous madness is told on his face and through his off-balance contortions throughout (he's a gifted actor as well)
the score by Joby Talbot
the exuberant (I think I stole that word from the NBOC programme) second Act – I need that music and those images on a loop in my brain from November 1 to Feb 28, every dreary winter:
https://www.youtube.com/watch?v=MS1cUOVpxyQ
the scenery and silk staging for the violent seas
Jamie Street's awesome death as Mamillius (that kid can die like nobody's business)
plus let's not forget the gorgeous costumes – it is not a monochrome ballet at all – the jewel tones in Act 1 were awesome
The TO Star loved it also (4 stars/4 stars):
https://www.thestar.com/entertainment/stage/2017/11/11/the-winters-tale-strips-away-the-fat-to-reveal-nuanced-emotional-themes-of-jealousy-love-and-redemption.html
If you can manage to go (only 3 performances left), please do.  Clearly Shakespeare could not make up his mind whether this was a comedy or a tragedy, so he threw it all in, plus the kitchen sink. And Christopher Wheeldon's ballet tells the great mess of a story, emotionally, with precision and remarkable beauty.
https://national.ballet.ca/Productions/2017-18-Season/The-Winters-Tale?gclid=EAIaIQobChMI8L-To5zI1wIV3rfACh1-DQO0EAAYASAAEgLeY_D_BwE